For more information about how the Empire State Building can satisfy your broadcasting and telecommunications requirements contact:
Shane O'Donoghue
Director of Broadcasting
Empire State Realty Trust
Empire State Building
350 Fifth Avenue, Concourse Suite 100
New York, NY 10118
212-736-3100
sodonoghue@empirestaterealtytrust.com
ESB Broadcasting at the 2014 NAB Show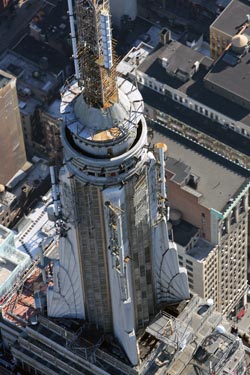 The Empire State Building ("ESB") has been involved in broadcasting since before the building was finished, with an NBC broadcast on Christmas Eve 1930. On ESB's opening night, May 1, 1931, NBC broadcast the RKO Theatre Over-the-Air from the 86th floor. Radio programs included NBC's Mobil Oil Concert Hour and WOR's Manhattan Melodies and The Microphone in the Sky. Television debuted when NBC sent its first experimental television signal from the top of the building on December 22, 1931 and in 1939, they introduced the first regular television broadcasts with the opening day ceremonies at the New York World's Fair. By the 1940s, Howdy Doody was broadcast, as well as other popular programs.
On July 25, 1950, New York City Mayor William O'Dwyer, RCA Chairman David Sarnoff and other dignitaries drove the first rivets into the base of ESB's broadcast tower.
Today, ESB does not look back to history, but rather forward into the 21st Century. ESB remains at the center of the New York Tri-State region's broadcasting operations. Our central location and strengthened technological backbone allows the delivery of broadcasting signals to cable and satellite systems and directly to television and radio receivers reaching over 7.4 million TV households representing over 6.5% of all TV households in the US. And it is not just television and radio … over 130 antennas provide a variety of point-to-point radio and data communications services to utility companies, telecommunications providers and public safety agencies.
We offer combiner and engineering space with security and priority access. ESB hosts endless combination of line-of-sight and centrally located height for a host of antennae location options, from our setbacks to the tip of our broadcast tower. We are state-of-the-art, from a clean, safe, and well run physical plant to a comprehensive power and RF monitoring system, to worker protocols to ensure compliance with law.
Empire State Building Broadcasting offers all technical facilities for radio, television, and point-to-point broadcasting to the New York, New Jersey and Connecticut designated market area (DMA) from our extensive broadcasting areas. Let us help you serve your customers and their needs.
Broadcast Tower
Empire State Building Broadcast Tower Mast
Antenna space available on Empire State Building Broadcast Tower
Highest antenna locations in New York Tri-State Region- 1,100 - 1,450 feet above grade
Its central location in Midtown Manhattan offers optimal broadcast coverage to the densely populated areas of the Tri-State region
Height above average terrain (HAAT) accommodates broadcasting to the entire Tri-State Designated Market Area (DMA)
Space available to accommodate Radio and TV Full Power Antennas
Our Broadcast engineering capabilities utilize the unique building infrastructure to customize the system design to minimize interference with adjacent market stations
Engineering & Construction expertise for broadcasting systems design, construction permits and installations
Transmitter and Communications Space available on upper floors
FCC Tower Registration number 1007048
Latitude: 40° 44' 54" Longitude: -73° 59' 10" (NAD27)
Mooring Mast
Antenna space available on ESB Mooring Mast
Antenna aperture space available from 1,092 - 1,224 feet above grade.
Space available to accommodate Low Power TV (LPTV), Distributed Transmission Systems (DTS), TV Station Booster Facilities, and microwave point-to-point communications
Line of sight to all major communication hubs in the Tri-State area
Engineering and construction expertise for communication systems design, construction permits and installation
Technical space available on upper floors
FCC Tower Registration number 1007048
Latitude: 40° 44' 54" Longitude: -73° 59' 10" (NAD27)
Setback Areas Leasing & Licensing
Empire State Building Setback Areas
Setback antenna space available at 857; 965; 1,029; 1,073; and 1,092 feet above grade
Space available for Microwave, WiMAX, GPS, VHF, UHF, Cellular, Low Power TV (LPTV), Distributed Transmission Systems (DTS) and TV Station Booster Systems
360-degree line of sight to all major communication hubs in the Tri-State area
Large multimode and single-mode fiber bandwidth capacity from street to top of building
Engineering and construction expertise for communication systems design, construction permits and installation
Technical space available on upper floors
FCC Tower Registration number 1007048
Latitude: 40° 44' 54" Longitude: -73° 59' 10" (NAD27)
Location Map
Empire State Building Broadcasting Coverage Area
Building Location:
Latitude: 40° 44' 54" Longitude: -73° 59' 10" (NAD27)
Building Address:
350 Fifth Avenue, New York, NY 10018
FCC Tower Registration number: 1007048