For the first time in 15 years, the Empire State Building traded in its iconic burgundy team uniforms for a fresh style. More than 100 Observatory hosts, gift shop attendants, and other staffers will don the new look that combines a modern silhouette with nods to the Empire State Building's legacy and classic Art Deco elegance.
A Welcome Change
The new "Empire Steel" gray uniforms with accents of "City View Blue" feature subtle details inspired by the Empire State Building and its Art Deco style. Gold cogs and wheels line the vests, jackets, ties, and hats as a nod to the Fifth Avenue Lobby's brilliant 23 carat gold ceiling. The service cap maintains its classic shape with the updated gray and blue colorway.
The four-piece uniforms were chosen in a vote by Observatory social media followers. Observatory Host Robert Gross – who has served the Empire State Building for nearly 25 years – wore several iterations of the team uniform throughout his tenure and praised the fresh take on his daily workwear.
"The change is great, and the look is more modern than what we had before," said Gross. "These uniforms have the classic ESB feel with a renewed sense of style."
The uniforms – from concept to finished product – were developed alongside Peyman Umay, a design house that specializes in high-end menswear and womenswear. The designer described the new uniforms as an "impeccable fusion of the building's iconic past and futuristic vision." Umay and his team conducted the fittings and alterations in the Empire State Building's uniform room.
"City View Blue"
Observatory team members and the Peyman Umay team reunited for a ceremonial lighting at the Empire State Building Observatory on Jan. 24. Dressed in their new threads, selected Observatory hosts flipped the switch to turn the building's iconic lights from burgundy to "City View Blue." That evening, the Empire State Building's tower lights shined in the new uniform's signature blue.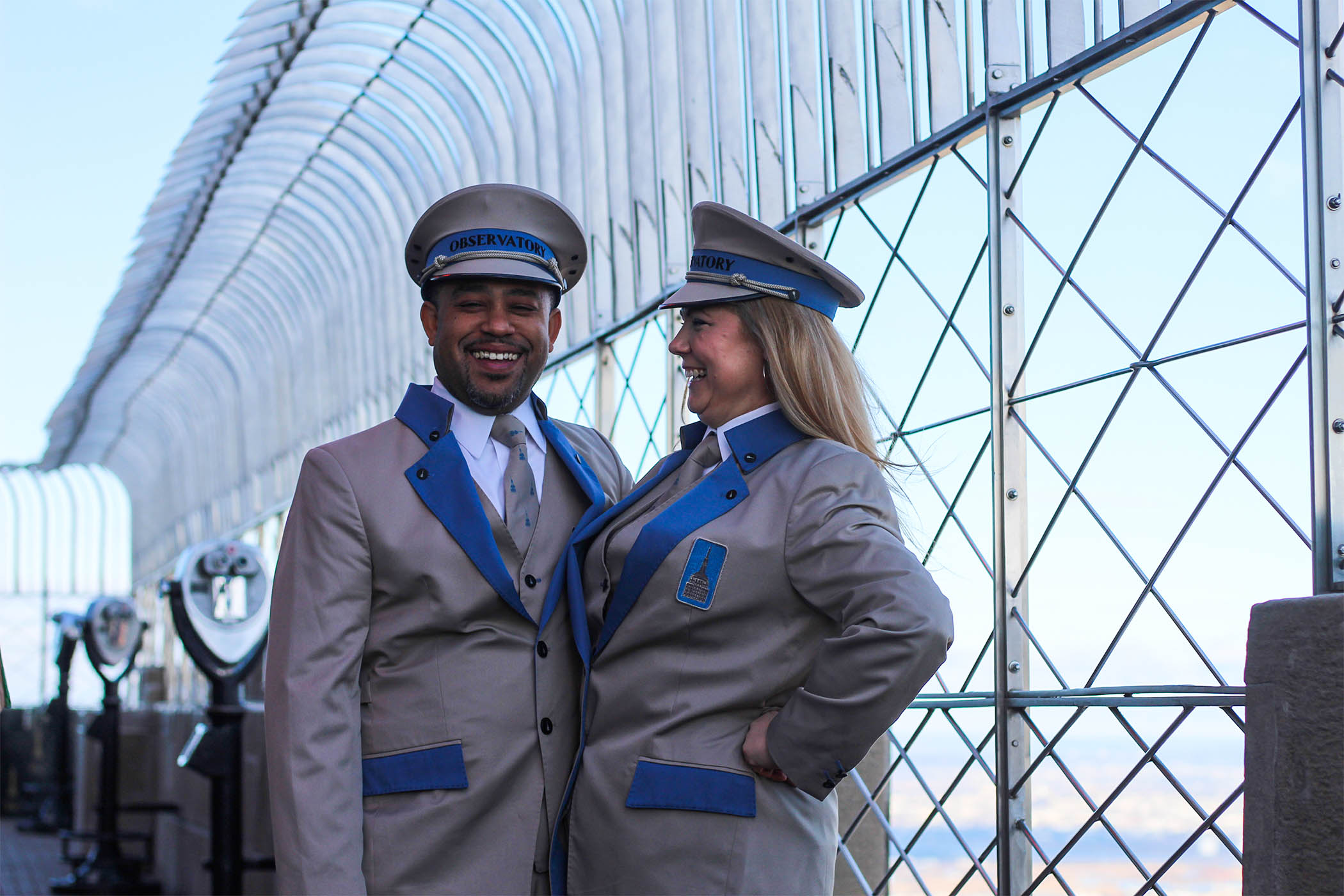 The Reimagined Observatory Experience
The Observatory team welcomes millions of visitors from around the world each year and remains an important part of the Empire State Building's history and charm. The new team uniforms mark a final step in the Observatory Experience's $165 million reimagination that added a dedicated visitors entrance, interactive museum, and renovated 102nd Floor Observatory. The Empire State Building Observatory Experience was voted #1 Attraction in the U.S. – and #3 in the world – by Tripadvisor travelers in 2022.
The next time you visit the iconic Empire State Building, take a moment to appreciate the Observatory team uniform's timeless elegance and contribution to New York City's most beloved landmark.