The following new measures are consistent with the CDC and local government guidelines:
Entry
Reserve your ticket in advance – click here to buy tickets now.
All guests (ages 2 and up) are required to wear a facial covering in the Observatory.
Starting December 14, 2021, per New York City regulations, all guests, 5-11 years of age must show proof of at least one shot of the Covid-19 vaccination.
Currently, all guests who are 12 years and older must show at least two doses of the Covid-19 vaccine at the door and must wear a mask throughout their experience at the Empire State Building. Please see below for list of approved vaccines:

Moderna
Johnson & Johnson
Pfizer / BioNTech
AstraZeneca/SK Bioscience
Serum Institute of India/COVISHIELD
Vaxzevria
Sinopharm
Sinovac

All visitors will be required to comply with these mandates to be granted entry upon arrival.
A recent negative COVID test, proof of religious or medical exemption will not be accepted. Accepted proof of vaccination includes:

Physical vaccination card
New York State Excelsior Pass
Relevant state provided vaccine pass
Photo of your vaccination card Updated Operating Hours
Jan 3rd - Jan 9th:

 10 A.M. – 10 P.M| Last Elevator at 9:15 P.M.

Jan 10th - Feb 11th:

 12 P.M. – 9 P.M| Last Elevator at 8:15 P.M.

Feb 12th:

10 A.M. – 10 P.M| Last Elevator at 9:15 P.M.

Feb 13th - Mar 11th:

 12 P.M. – 9 P.M| Last Elevator at 8:15 P.M.

March 12th:

10 A.M. – 10 P.M| Last Elevator at 9:15 P.M.

March 13th:

1 P.M. – 10 P.M| Last Elevator at 9:15 P.M.

Mar 14th - Mar 31st:

 1 P.M. – 10 P.M| Last Elevator at 9:15 P.M. 

Mar 14th - Mar 31st (Saturdays only):

 11 A.M. – 11 P.M| Last Elevator at 10:15 P.M. Indoor Environmental Quality
As part of our $165 million renovation, we implemented the following new air quality measures:
MERV 13 air filters
State-of-the-art air purification improves air quality and reduces the risk of virus transmission*
Fresh air ventilation
System designed to provide clean air to over 1,600 hourly visitors
* AtmosAir proven in lab tests by Microchem Laboratory to neutralize 99.92% of Coronavirus.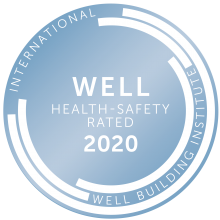 WELL Health-Safety Rated
First commercial real estate portfolio in the U.S. to achieve the WELL Health-Safety Rating
Launched in June 2020, the WELL Health-Safety Rating is an evidence-based, third-party verified rating for all new and existing building and space types and is focused on operational policies, maintenance protocols, emergency plans and stakeholder engagement strategies to help organizations prepare their spaces for re-entry in a post COVID-19 environment.
The WELL Health-Safety Rating measures five categories:
cleaning and sanitization procedures 
emergency preparedness programs
health service resources
air and water quality management
stakeholder engagement and communications
Visit The Heart of NYC
It's New York's can't-miss experience. Book your ticket to the top today.