Have you ever looked up at the Empire State Building and wondered why it was lit a certain color? Wonder no more! 
Now, it is easier than ever to connect with the "World's Most Famous Building" through a new text message feature that delivers a photo and reason for the lighting in real time.
ESB VIP
Subscribers will be the first to receive updates on the iconic tower lights and special light show displays, from annual Music-to-Light shows to dynamic building transformations. This innovative feature aims to keep locals and visitors informed about the ever-changing aesthetics of the city's most recognizable landmark and deepens the bond with the millions of people who admire it each day.
An Iconic Feature
The Empire State Building lights have captured the world's imagination and defined the New York City skyline for decades. Each night, the building's state of the art LED lighting system – able to display more than 16 million colors – shines for important occasions, holidays, and organizations for all of New York City and the world to see.  

Text CONNECT to 274-16 and be the first to know about tower lightings, celebrity visits, and insider tips from the Empire State Building!
**By subscribing, you are opting in to receive texts from the Empire State Building on exclusive Tower Lightings. Message frequency varies.  Message and data rates may apply. By opting into this service, you consent to receive mobile text alerts using an automatic telephone dialing system. Consent to receive marketing text messages is not required as a condition of purchasing any goods or services. Text STOP to 27416 to stop receiving ESB Lighting alert messages. For help, text HELP to 27416.  For more information about our SMS program, please review our Terms & Conditions and Privacy Policy.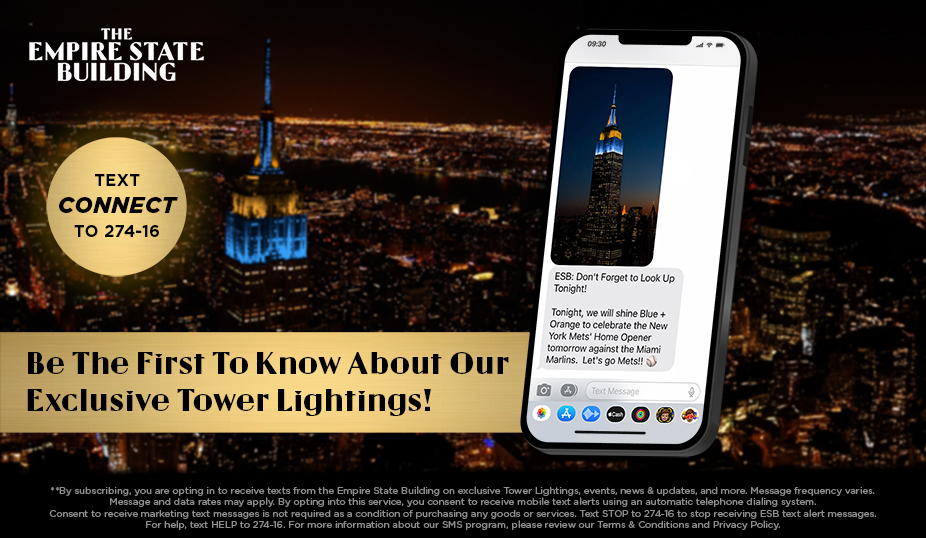 Learn more about the Empire State Building's tower lights!