A comprehensive retrofit of such a large building, with such a diverse team, is a very significant and unique undertaking. The project development process the team used was created upfront, refined along the way, and is ready for improvement by future project teams. During the more than one year in which the team worked in secrecy, it kept their goal — to determine the most cost-effective and impactful package of retrofit measures — front and center.
Projects in Detail
The recommended package of 8 projects saves nearly 40% of the energy at the Empire State Building, but almost all the changes are unnoticeable from the outside and by visitors to the 86th floor Observatory.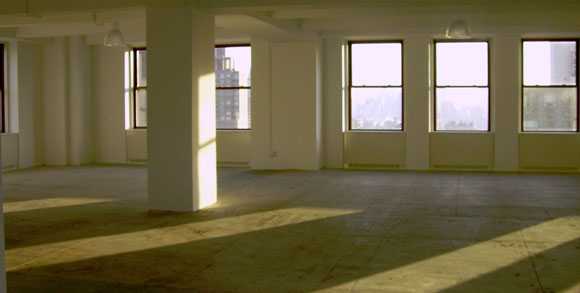 The sustainable transformation of the Empire State Building has happened inconspicuously – and the huge energy savings come from the interaction between the multiple retrofits. Tenants will find opportunities for enhanced, more comfortable office spaces, and engineers have the most advanced tools to monitor how energy is being used throughout the building.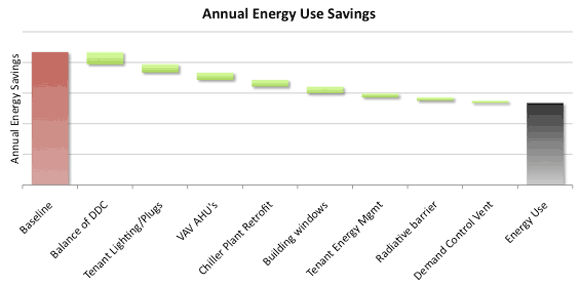 Radiative Barrier
This project involved the installation of more than 6,000 insulated reflective barriers behind radiator units located on the perimeter of the building. In addition, the radiators were cleaned and the thermostats were repositioned to the front side of the radiator.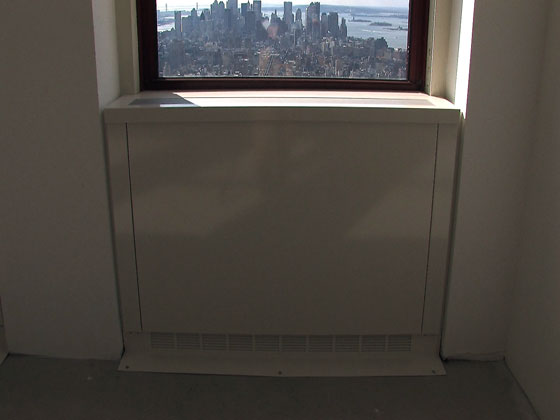 Tenant Daylighting, Lighting, and Plugs
This measure involved reducing lighting power density in tenant spaces using ambient, direct/indirect, and task lighting, installing dimmable ballasts and photosensors for perimeter spaces that can operate with electric lights off or dimmed depending on daylight availability, and providing occupants with a plug load occupancy sensor for their personal workstation.
All spaces at the Empire State Building deploy these measures both through pre-built office suites prepared by ownership ready for tenant move-in and in tenant fit-outs built by tenants themselves. In all cases, the data is available to show tenants the cost savings of these measures over the terms of their leases. The combination of building and tenant work results in lower overall cooling demand and higher sustainability ratings for the building. Tenants benefit from reduced utility costs and higher quality, more productive spaces.
Balance of Direct Digital Controls (DDC)
The balance of DDC project involved upgrading the control systems at the Empire State Building. The project design and layout was based on using Johnson Controls Metasys Extended Architecture BACnet controllers and includes Ethernet and BACnet risers with all necessary devices and equipment, ADX server/workstation, printer, software, and web access capability.
This measure includes control upgrades for the following building systems:
Refrigeration Plant Building Management System;
Condenser Water System Upgrades;
Chiller Water Air Handling;
DX Air Handling Units;
Exhaust Fans;
Stand Alone Chiller Monitoring;
Misc. Room Temperature Sensors; and
Electrical Service Monitoring.
Chiller Plant Retrofit
The chiller plant retrofit project included the retrofit of four industrial electric chillers (one low zone unit, two mid zone units, and one high zone unit) in addition to upgrades to controls, variable speed drives, and primary loop bypasses.
All existing pumps and steam chillers remain. For the low zone chiller, the retrofit involved the installation of: a new chiller mounted variable speed drive, a new VSD-rated compressor motor, a new IEEE Filter in VFD to reduce harmonic distortion, and a new Optiview Graphic Control Panel with latest software revision. For all other chillers, the retrofit involved the installation of: new drivelines, new evaporator and condenser water tubes, new Optiview Graphic Control Panels with the latest software revision, chiller water bypasses with two-way disk type valves, new piping in place of backwash reversing valves, new automatic isolation valves on the CHW supplies to each electric chillers, and temperature and pressure gauges on all supply and return lines. In addition, R-500 refrigerant were removed (per EPA guidelines) and replaced with R134A refrigerant. The existing steam chillers remained. All electric chillers, CW and CHW pumps, pump VFDs, and zone by-pass valves are controlled by the Metasys control system.
VAV Air Handling Units
The team recommended a new air handling layout (two floor-mounted units per floor instead of four ceiling-hung units) as well as the use of variable air volume units instead of existing constant volume units.
This recommendation resulted in little additional capital cost while reducing maintenance costs (as the quantity of air handlers will be reduced and they will be floor-, as opposed to, ceiling-mounted) and improving comfort conditions for tenants (reduced noise and increased thermal accuracy and control).
Building Windows
This project involved upgrading the existing insulated glass (IG) within the Empire State Building's approximately 6,500 double-hung windows to include suspended coated film and gas fill.
This "re-manufacturing" of the IG units took place within the Empire State Building. IG units were removed, delivered to a production area, and picked up for reinstallation. Alpenglass TC88 or SC75 were used as the suspended film according to the orientation. A mix of krypton/argon gas was used between the glass and suspended film. This project improved the thermal resistance of the glass from R-2 to R-6 and cut the heat gain by more than half, in addition to allowing for the recycling of all existing glass.
96% of the original glass and window frames were reused in the project.
Tenant Energy Management
This project allows for the independent metering of a greater number of tenants in the Empire State Building. Tenants have access to online energy and benchmarking information as well as sustainability tips and updates.
A EnNET/AEM platform will be provided for collecting 15-minute meter data and creating a normalized database that can be used to support Time Series profiling, reporting to ISO, and integration in the future with property management software for creating a bill based on current meter read. In addition, the AEM application will be commissioned and web pages will be created to properly display metering data, Time Series Analysis, real-time metering information, and to create notifications based on usage parameters.
Project Finances
So how much does this all cost? Below are some answers to common questions regarding cost, savings, the performance contract, and financing.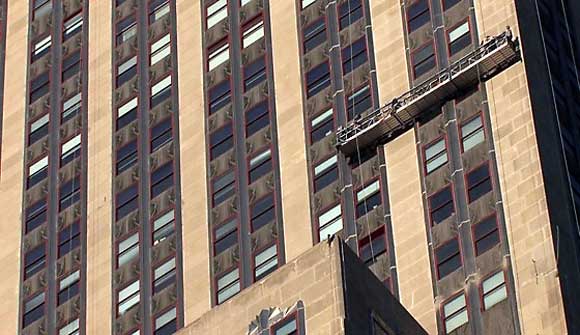 How much does the recommended package of 8 energy efficiency projects cost?

The total incremental cost for efficiency beyond planned infrastructure upgrades is $13.2 million. Some funding within the existing capital budget was re-allocated to different projects, while some funding was removed as projects were deleted, and other funding was added to support new efficiency projects. The sum of all these changes, deletions, and additions is $13.2 million. This incremental cost includes soft and hard costs required to provide, install, and set into proper operation all equipment and systems that make up the project.

How much money does this package save?

The package of eight measures saves $4.4 million annually once fully implemented.

What is the total value of the performance contracts?

Five of the eight projects will be implemented using a performance contract. The total cost (not incremental) to implement those measures is $20 million. These projects will save $2.4 million of the total $4.4 million annual savings.

How is the project financed?

A financing solution is currently being sought that covers funding all costs, and spreads all payments over the performance period or term. Implementation period draws will be required monthly through the 18-month implementation schedule to meet construction requirements. The owner is seeking project financing that can be paid back over a 15 to 20 year period, depending on the offers available from respective financial institutions.
Project Benefits
The project not only saves money for the Empire State Building and for tenants, but it has other benefits as well.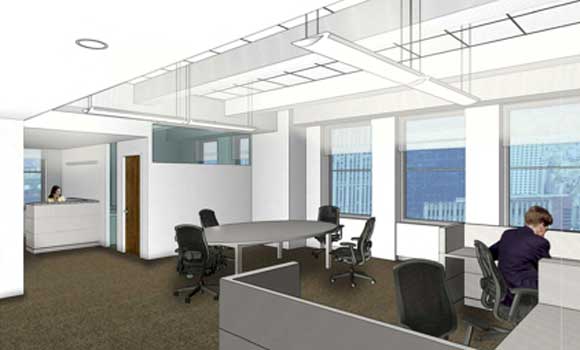 Occupant Benefits
Projects in the recommended package, including the windows, radiative barrier, and better controls, will provide enhanced thermal comfort to building occupants. Demand control ventilation will improve indoor air quality by ensuring adequate, though not excessive, ventilation is provided to tenant spaces. A high-quality visual environment will be provided through tenant lighting and daylighting efforts that layer ambient, direct/indirect, and task lighting to maximize comfort while saving energy.
Chiller Plant Retrofit and Sizing
The recommended package of retrofit measures provides a ~30% reduction in the amount of heat that needs to be removed from the building. This cooling load reduction along with the existence of industrial chillers within the Empire State Building enabled the project team to recommend retrofitting the original chiller plant rather than installing a new chiller plant to handle additional capacity.
Electrical Demand
The recommended package of measures also reduces the building's peak electric demand by approximately a third, freeing up currently constrained electrical capacity.